Bangladesh Open University published BOU SSC Routine 2022 for its regular students. The BOU SSC Exam will start on 19th August 2022. It will continue to almost one month. The end date of the BOU SSC exam is 16th September 2022. BOU SSC Routine 2022 fixed by Bangladesh open university. The authority of BOU can change the routine if necessary.
BOU SSC Routine 2022
Bangladesh Open University recently published its routine for Secondary School Certificate exam 2022. All the schedules of the upcoming BOU SSC exam will be maintained by the authority of Bangladesh Open University. Let's check out the important dates of BOU SSC Routine 2022.
| | |
| --- | --- |
| BOU SSC Exam 2022 | Important Date |
| Exam Start Date | 19th August 2022 |
| Exam End | 16th September 2022 |
| Exam Time: | 10 AM-12 PM & 2 PM- 4 PM |
They are two phases in the BOU SSC exam. The two phases are:
BOU 1st Year SSC exam
BOU 2nd Year SSC Exam
Bou 1st Year Exam will start at 9 am and Bou 2nd year exam will start from 2 pm.
Bangladesh Open University SSC Routine 2022 Download
Students can download the BOU SSC routine 2022 pdf or image format from our site AlBangladesh.com. As we know, the Bangladesh open university is the 7th largest university where many students cannot study for different circumstances. Lets; 's check the routine, which is table format.
We updated this table according to the BOU SSC Routine 2022 . I hope this is helpful for you.
Now check your BOU routine 2022 as image formate and we provide a PDF download link after the imager. Where you can download PDF format with a high format.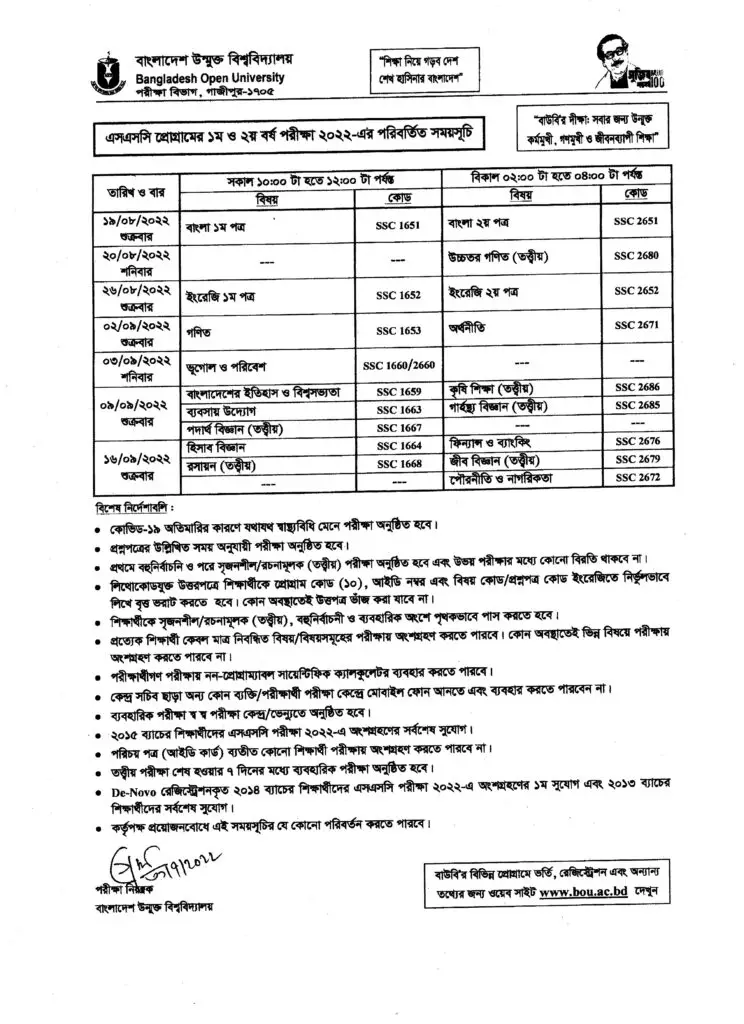 BOU added 19 extra programs in their academic session. They are many study centers that are currently working for helping students. The study centers are situated in different districts of Bangladesh.
Some Important Instruction BOU SSC Exam 2022
Please follow the instructions that we are now providing below. These instructions will help you to make your preparation better. What will you do before the exam?
Must be attended Exam hall before 30 min.
Try to not carry any Electronics Devices.
All the electronics are prohibited by BOU authority.
Always try not to leave the exam hall within one hour of starting the exam.
Must Carry Students ID card in the exam hall.
Must know the exam center before the starting exam.
Collect Information about your practical exam from your nearest study centers.
The student's id number, lithocoded answer, should be written in English correctly.
Bou SSC Result
After finishing the exam, BOU will publish their SSC result within three months. So the students of Bou will wait for the result. Students can check their results through the official website of the Bangladesh open university and AlBangladesh.com. We will help you get your results faster than any other website in Bangladesh. The participants of BOU can get correct information about the BOU SSC result. We wish you the best of luck for your upcoming BOU result.
Keep in touch with us to get the Latest update about BOU SSC Exam 2022. Thanks for visiting our site. If any query comment below.