You are here to know about NU Corona Vaccine Registration online. National University Covid-19 vaccine registration for students started two days ago. NU Corona Vaccine Registration Online 2021 started on July 7. National University Corona vaccine Registration is the greatest step for every student who studied in the undergraduate and graduate courses in NU. A few days ago on 8th July 2021, the NU Corona Vaccine Registration Notice was published. According to the system of the National University in Bangladesh after publishing notice, they started registration for Covid-19 vaccine in their official website NU.ac.bd. But this year suddenly vacation come because of Corona Virus for that all the office of Nu is switched off. Nu can't maintain their regular schedule. For that, they delayed publishing everything that is included for NU students.
NU Corona Vaccine Registration Date
We are going to tell you the correct date of the NU Corona Vaccine Registration 2021 Date. NU Corona Vaccine Registration form fill up 2021 will start from 8th July 2021, and it will continue to almost 3 or 4 days. The last date for filling the form of COVID Vaccine register is 12th July 2021. It is a short-term process by National University Bangladesh. The most important date of National university coronavirus registration given below:
NU COVID Vaccine Application Start: July 08, 2021(100% Confirmed Date)
Application End: 19th July 2021.
These dates are required to know for every student who is studying in honours and masters as well as degree(Pass) under NU. If you know the precise date form fill-up of the NU COVID-19 vaccine registration, then it will make you an advantage in managing money and other documents.
NU Corona Vaccine Registration Online 2021
The NU students can download their form fill up notice form Albangladesh.com. You can download the notice in any format like the image or PDF format. We are pleased to provide you with the form fill up notice of the NU Corona Virus Vaccine under the national university Bangladesh. Let's check out below to know about the information of the upcoming NU Corona Vaccine Registration Online for students.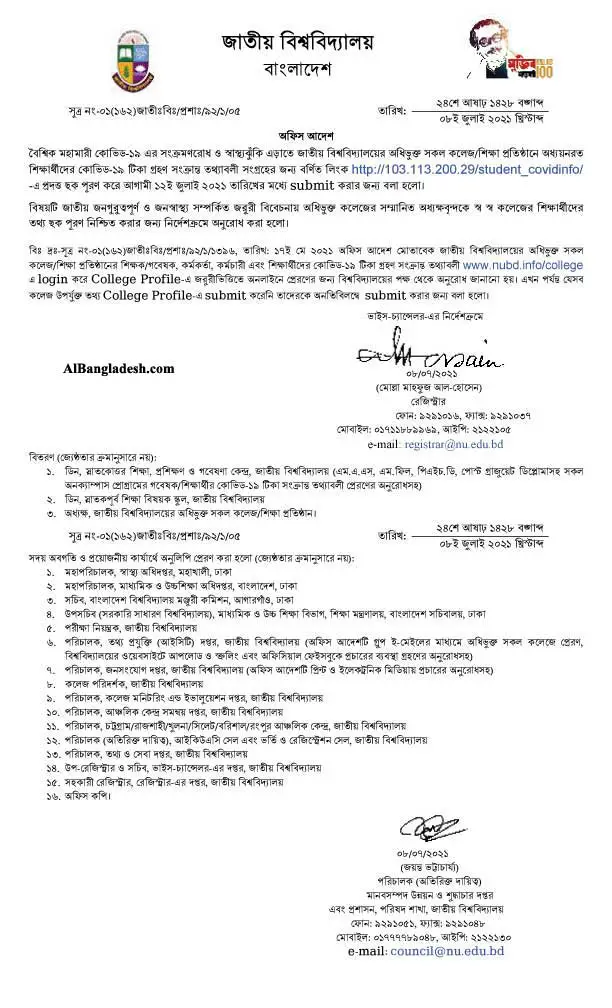 How To Register For NU Corona Virus Vaccine?
To complete the NU Corona Virus Vaccine Registration, the students must fill up a form online. For that, the candidates follow the required information that NU provided for them. We got the process from National University and showing that step by step below.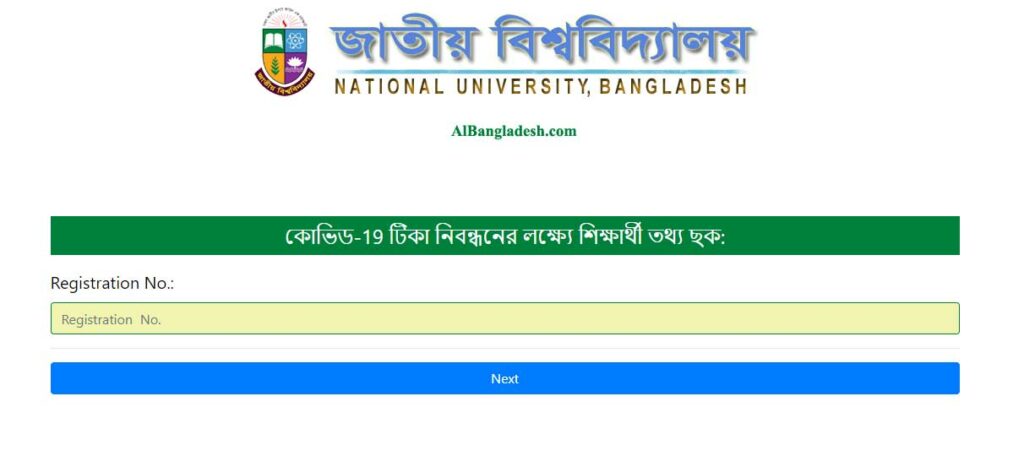 http://103.113.200.29/student_covidinfo/
Here is another question that comes into the student's mind. What is the link to NU COVID-19 vaccine registration online? We have a simple solution for you. You can check the link that we already provide. or Check below:
The LInk of NU Corona Virus Registration is http://103.113.200.29/student_covidinfo/
After clicking this link you can directly enter the official site of National University Coronavirus registration online.
2nd Steps: You can see your name and details. After the provide your Mobile phone number and NID and finish the application.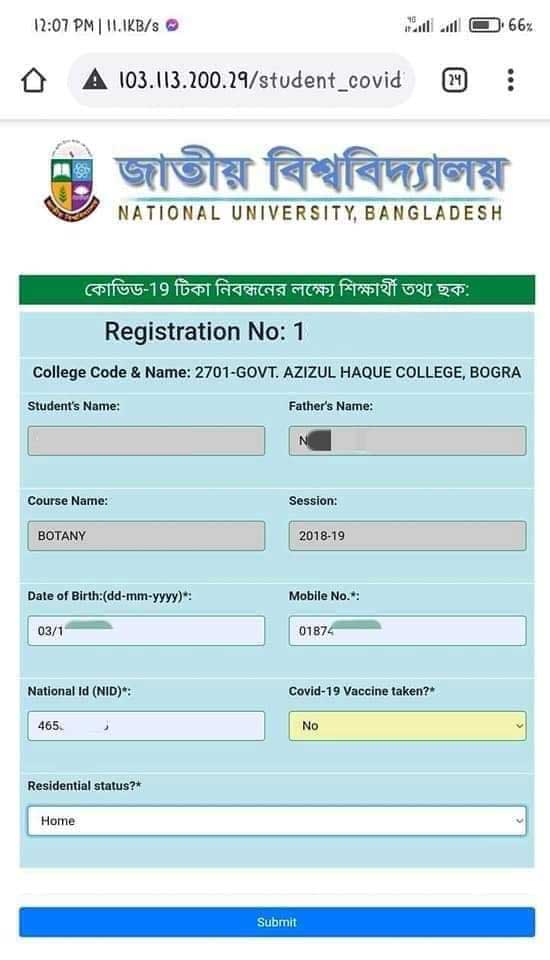 More than 32 lakh students are waiting to get vaccines for free under national university Bangladesh.
NU Vaccine Registration NID and DATA Not Found Problem
Many of us don't have a National ID. So we can't register now. For that NU decided and will provide notice for us. So don't worry about Data Not Found or NID.
If you feel trouble for registration online then you can email NU: formfillup.nu@gmail.com
Thanks, guys to visit our site for Honours 2nd year form fill up 2020. If anything you want to know then comment below.