Are you looking for Primary Assistant Teacher Circular 2020? Then you are in the right place because Primary Assistant Teacher Circular 2020 will be published on 20 October. The directory of Primary Education already fixed all the schedule for the upcoming Primary Assistant teacher job circular 2020. DPE also issued vacant posts of Primary Teacher all over Bangladesh. A circular for primary school teachers will publish within 20 October 2020 according to the information of Different newspaper(Prothom Alo & Kaler Kontho) in Bangladesh. Let's start all the procedure of upcoming Primary Assistant teacher circular 2020.
Primary Assistant Teacher Circular 2020
Primary Assistant Teacher job is now a golden job in Bangladesh. If you want to make a dream career, then this job will be best for you and your life. Primary School teacher is not only a job now but also a dream of job seekers. This year Directory of Primary Education made many changes for new recruiting people. Last time Higher Secondary education(HSC) was only required for Female candidates. But this year candidates must be completed graduation from any reputed university in Bangladesh.
In 2020, Primary controller will recruit more than 32000 people for Assistant Teacher post.
Check Short Information about Primary Assistant Teacher Job 2020:
| | |
| --- | --- |
| Post | Pre Primary And Primary Assistant Teacher |
| Number of Posts | 32577 |
| Application Start | 25th October 2020 |
| Application End | 24th November 2020 |
| Apply link: | DPE.TELETALK.COM.BD |
So, It is a huge circular for job seekers in Bangladesh.
Primary School Job Circular 2020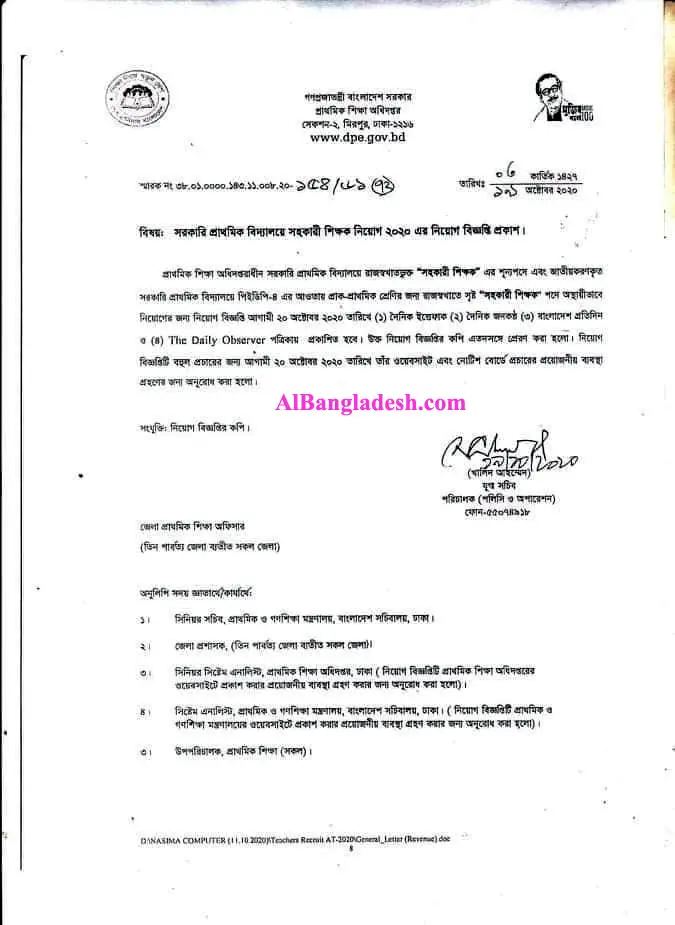 Primary School Teacher Job circular is now available on our site. You can download and check the whole circular for your job application. We will provide you with the exact information about the primary job 2020 in Bangladesh. Let's talk about some important information which is related to primary assistant teacher job 2020. We are now providing a table with all the necessary data.
| | | | |
| --- | --- | --- | --- |
| Position Name | Salary | Age | Qualification |
| Assistant Teacher | 13th Grade(11000-26590) | 18-30 | Graduation |
| Pre Assistant Teacher | 13th Grade(11000-26590) | 18-30 | Graducation |
Education qualification is more important for this post. You must be graduated from any University in Bangladesh.
Primary Assistant Teacher Job Circular 2020
From this section, You will get your Primary Assistant teacher job circular 2020 in the image as well as PDF format. You can download your desired form.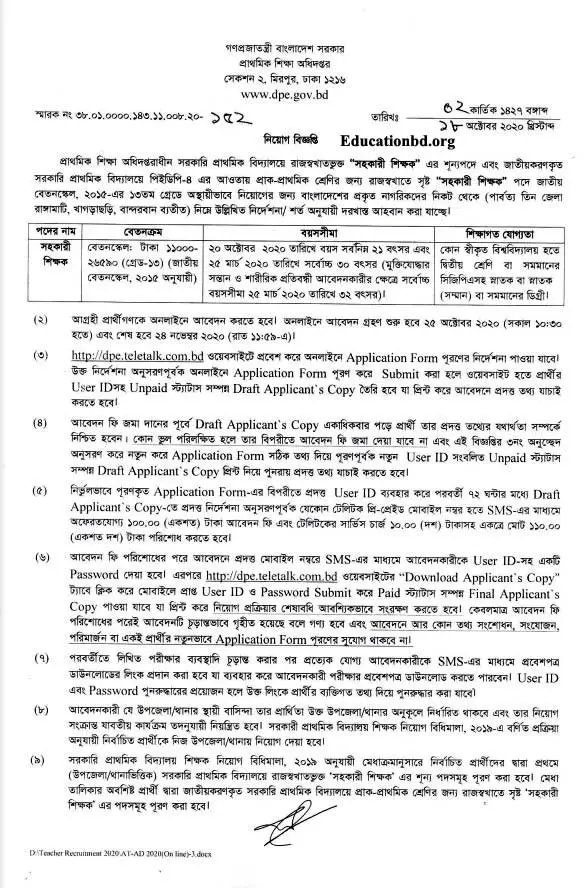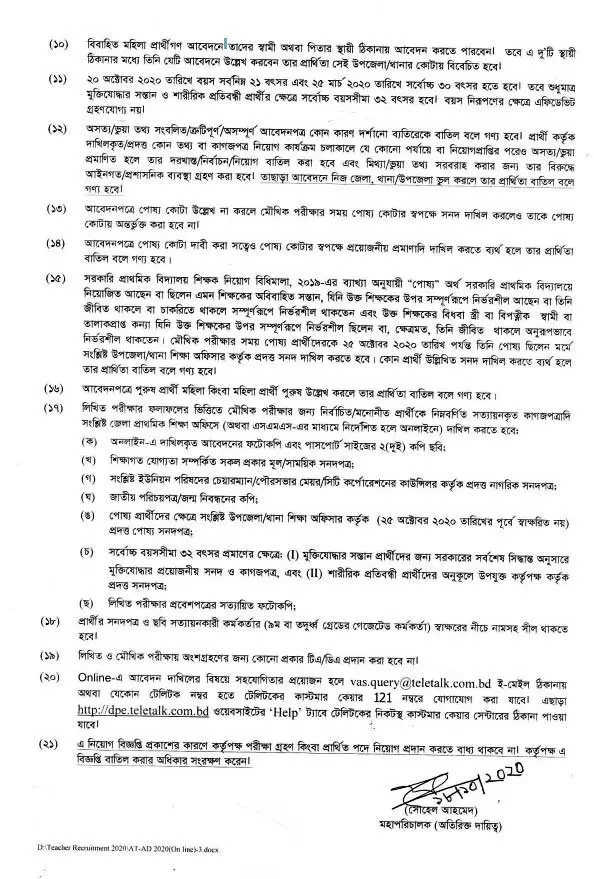 From October DPE increased the salary scale for Primary Assistant teacher and Pre Primary also. The current salary scales of Primary School Assistant teacher is 13th Grade. And the amount should be 11000-26590 BDT.
How To Apply DPE Job Circular 2020
The main question of this circular that, how to apply Primary assistant teacher job 2020 online. We are going to show you the full process of applying online through the DPE.TELETALK.COM.BD website. Let's check out below: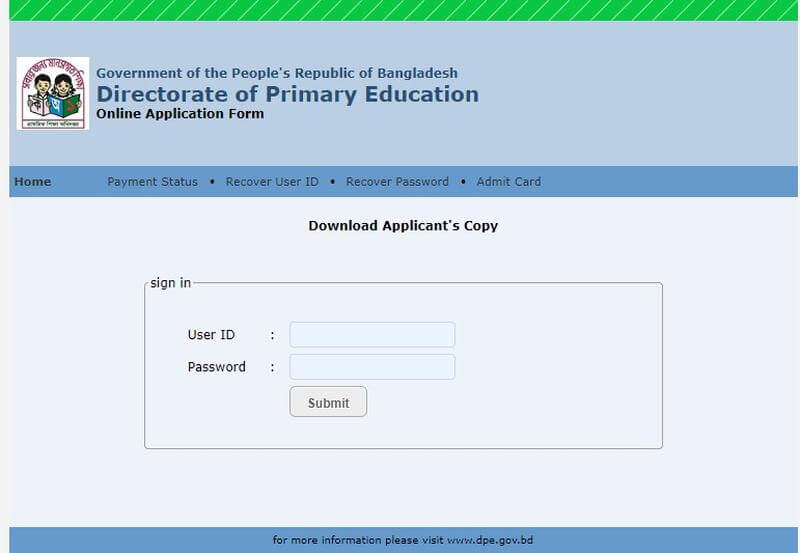 DPE Job Appy Online
First: Visit: DPE.Teletalk.com.bd
Second: Select Your Post
Fourth: Provide All the info according to Form.
Fifth: Provide your Photo and Signature
After that, Recheck your entry and if everything ok, then Click on Submit. Then You will get your USER ID.
Primary Assistant Teacher Job Payment Method
After applying Pre-Primary and Primary assistant teacher job online, you will have to pay fee to confirm your registration.
Primary Assistant Teacher Job Application Fees: 110 BDT
You have to know how to pay fees after completing your job application for Primary and Pre-primary application 2020. For this, you will need a Teletalk SIM card with 116TK recharge because SMS charges will be required for it. Follow The Below steps: First Go To your Mobile Write Message Option and Type.
1st SMS:
DPER<SPACE> USER ID and Send to 16222

Example: DPER XISM3SM and Send To 16222
Then DPER replied with your Name and a Pin to confirmed payment.
2nd SMS:
DPER<SPACE>YES<SPACE>PIN and Send to 16222

DPER YES 434242 and Send to 16222
You have done all the procedure. And DPE will send you a message with your USER and Password. Keep it secret and Don't let it gone.
Primary School Teacher Job Circular 2020 Download
The Directory of Primary Education will publish the Circular for Both Primary and Pre-Primary teachers. They will recruit people for these two sectors.
DPE will appoint more than 26000 People in Pre-Primary and More than 6K people for Primary Assistant teacher. So recruiting people for Pre-primary is immensely larger than Primary.
Circular Published Date: 20th October 2020
Apply Date: October 2020
End Apply: November 2020
Number of Recruiting People: More than 32K
Primary job advertisements are usually published every 2-3 years. The primary circular was published in 2017 and then it is being published in 2020