Dear students, Are you looking for SSC Short Syllabus 2021? Then you are in the right place. We are going to provide you with SSC short syllabus 2021 for your upcoming exam. You will get here all the syllabus according to your section like Science, Arts, Commerce. The regular class of SSC 2020 was not happened because of Covid-19 pandemic. Coronavirus created many problems for secondary school certificate students. The school was remained closed during the covid-19 period. For that, the Bangladesh education board's authority decided they will take the secondary school certificate exam with SSC Short syllabus 2021. The regular class will start in February 2021 for SSC students. And the minister of education Dr Dipu Moni told the teacher to finish courses with this SSC short syllabus 2021. From this post, you will get all the necessary equipment for your upcoming SSC Exam 2021. So let's get started.
SSC Short Syllabus 2021
SSC short syllabus 2021 will be available from 26 January 2021 on our website. You will get PDF file to this SSC Syllabus 2021. More than 20lakh students were eagerly waiting for this syllabus. Finally there waiting has been finished. And finally, the ministry of Bangladesh education published the syllabus of upcoming SSC exam 2021. You will be surprised after downloading these syllabi. Check Short details about SSC Syllabus 2021:
Using this post, you can download SSC Short Syllabus 2021 PDF for below sections.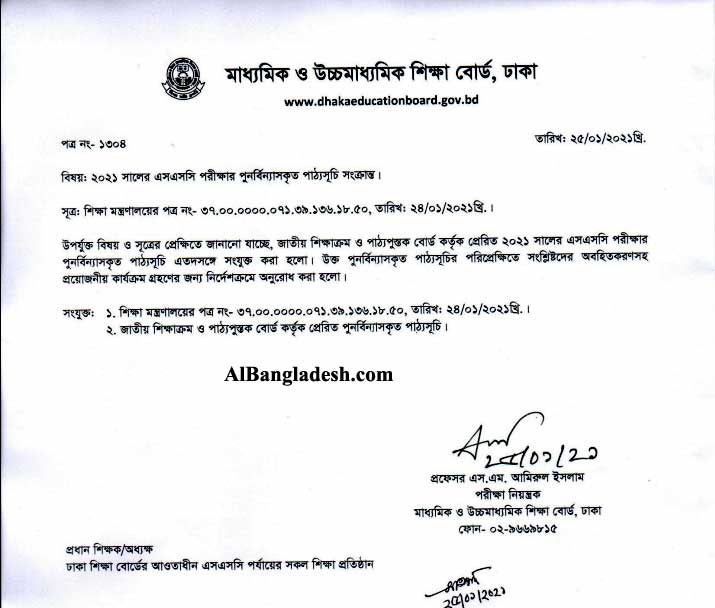 Compulsory
Science
Commerce
Humanities
Dakhil
SSC Short Syllabus for all Group
We are here now showing the compulsory book syllabus for SSC exam. Compulsory books are like Bangla, English Mathematics, Religion studies etc. We will also be showing the first image for every subject of SSC short syllabus 2021. Check the download button below:
SSC Bangla 1st Paper Short syllabus 2021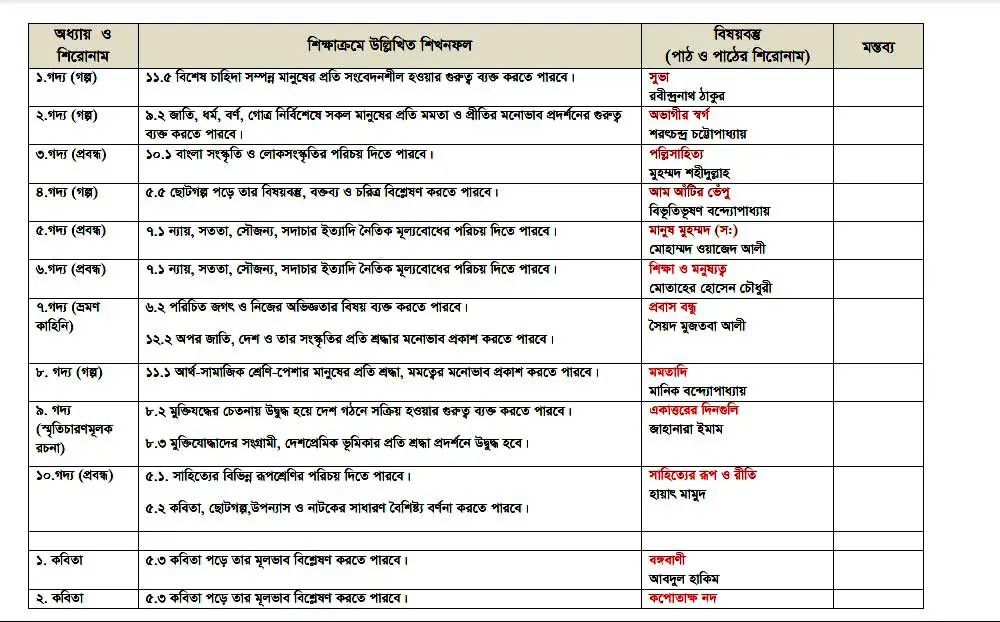 SSC Science Short Syllabus 2021
From this section, students can download SSC science group short syllabus 2021 PDF.
SSC Higher Math Short Syllabus 2021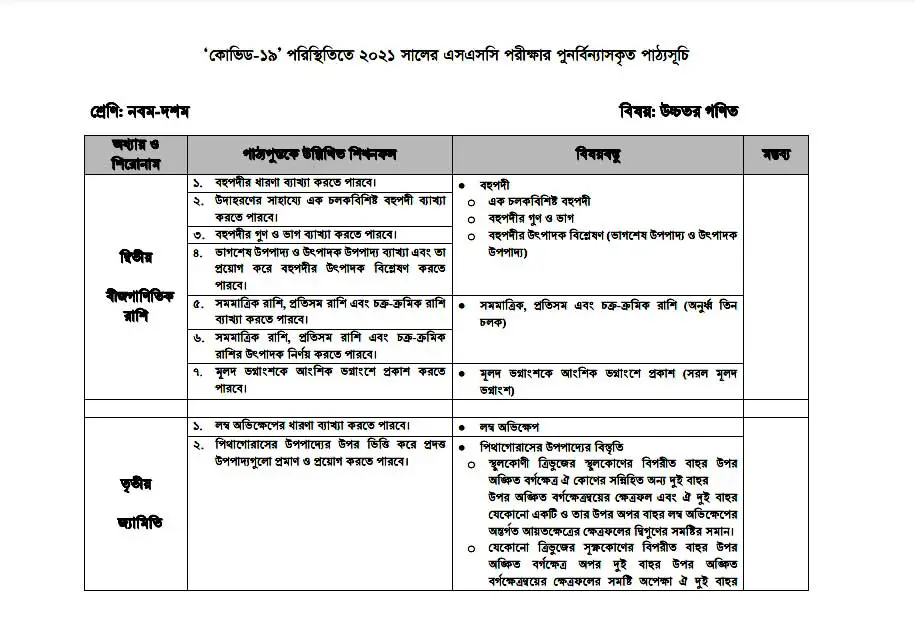 SSC Commerce Short Syllabus 2021
From this section, students can download SSC commerce group short syllabus 2021 PDF. Commerce group of SSC is also called Business studies. A massive number of students want to continue their studies from Commerce sections. Here download SSC Business Studies Short Syllabus 2021.
SSC Accounting Short Syllabus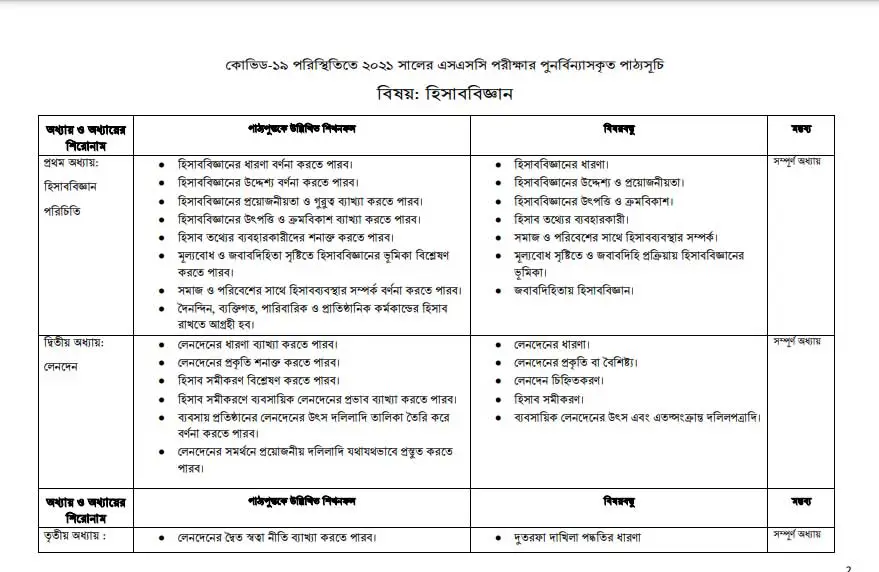 SSC Humanities Short Syllabus 2021
The students who are not able to get science or commerce take Arts. Arts is also known to Humanities. The number of students in the Humanities is higher than in business studies and science. Now let's download SSC Humanities Short Syllabus 2021 PDF below:
SSC History Short Syllabus 2021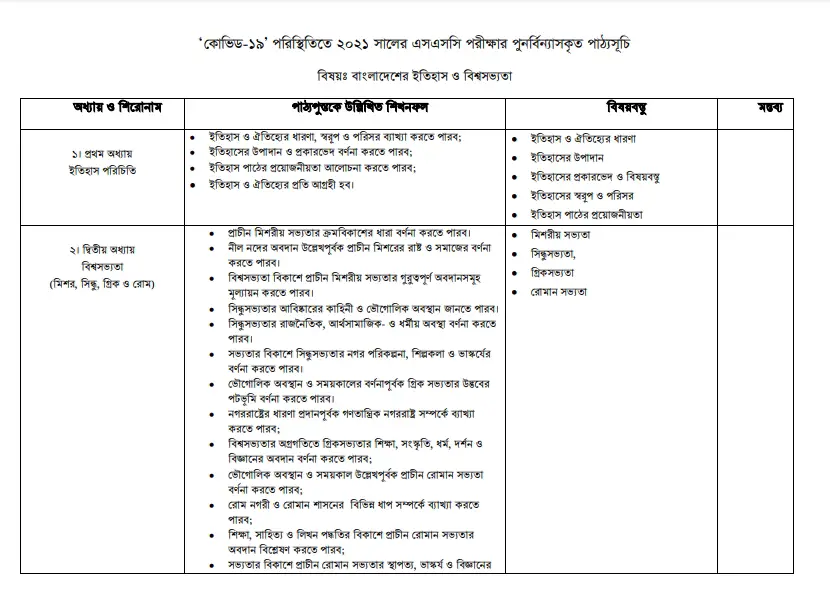 Government of Bangladesh are trying to open all the school and colleges. They are preparing for it. SSC sector will be opened from February and will start class from this short syllabus 2021. Students must attend the class to complete their studies. After 3-4 months, the SSC exam 2021 will begin. So you have to be careful with your reviews.
Thanks for being here to get SSC Short Syllabus 2021. I hope this article was helpful for and you got your desired syllabus. We wish you the best of luck for your upcoming future.