SSC Vocational Routine 2022 is now available on our site. The technical board of Bangladesh published routine for SSC Vocational students. The SSC Vocational Exam will start from 3rd February 2022. Bangladesh's technical education board will start the SSC exam for vocational students the same day across the country. This year a huge number of students will participate in the SSC Exam 2022. The SSC and Vocational Exam will become festive in all over Bangladesh. The Vocational Exam 2022 will be finished on 27 February 2022 . Then the practical exam of Vocational students will start in March 2022. Let's check out below for your routine.
SSC Vocational Routine 2022
Bangladesh Technical Board is making always self-independent of people. So they create many variations in study sectors. For the continuously they published SSC Vocational Routine 2022 for the academic session 2019-20. Let's check out the important date about the exam of the Vocational institute.
Vocational Exam Start: 3rd February 2022
End: 27th February 2022
SSC Vocational Practical Exam Start: 29-02-2022
Practical Exam End: 5th of March 2022
The authority must be sent practical marks to the board within 8th March 2022.
Practical Training: The vocational students have another session for practical training. A students will have to participate in this session to complete his/her SSC program from the vocational section.
Date: 07-03-2022-19-04-2022
Download SSC Vocational Routine 2022 PDF
Here we provide SSC Vocational Routine as a pdf format as well as image format. You can download your desired format of this routine.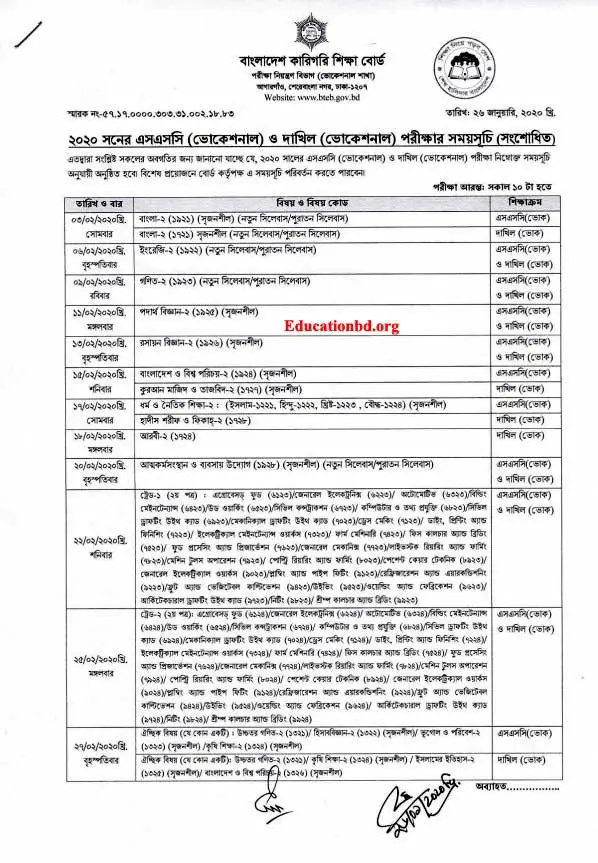 Practical and Training Routine for Vocational Students: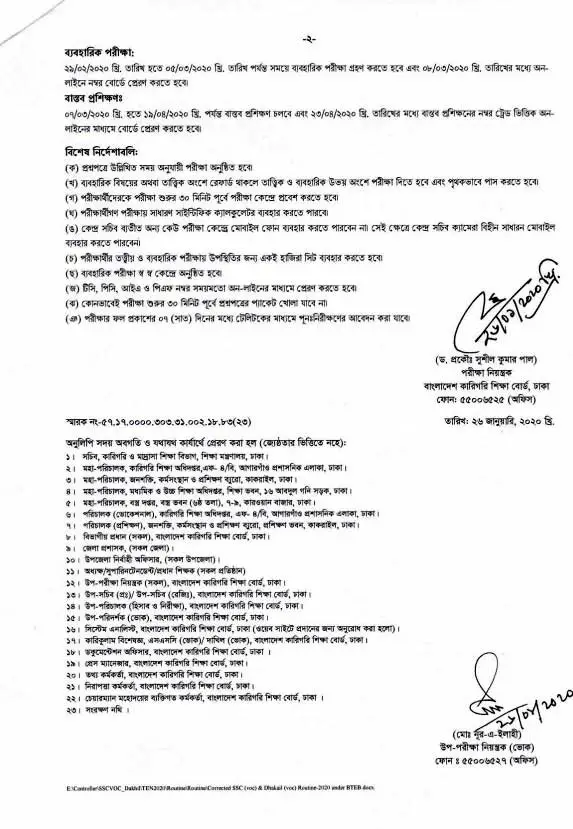 Follow this routine for great preparation for your SSC Exam for Vocational Section.
SSC Vocational Exam 2022 Statistics
We are going to update every exam SSC vocational and others. This year more than 1 lakh students participated from Karigori or Vocational section in Bangladesh in the SSC exam 2022. The exam will be held in 733 education centers in Bangladesh. Let's check out short information about SSC Vocational Exam 2022.
| Subjects | Number of Examinee/Centers |
| --- | --- |
| Number Centers | 733 |
| Total Examinee | 112100 |
| Present Students | 109416 |
| Absent Students | 2684 |
| Expel Students | 22 |
Don't make any violation in Exam Hall.
SSC Vocational Exam Instructions
There are some instructions that you must follow in the exam and before the exam. Exam duration and other information that you will get in your question paper. We are now discussing the Vocational SSC exam instructions that you must follow.
Must enter the exam Hall 30 minutes ago.
You have to finish the exam within a specific time according to question.
The first MCQ exam will start than writing exam will start.
Collect your admit card from your madrasah and must bring it to the exam center.
You must fill up the circle according to your Roll, Registration and Subjects Code.
You Can't use any electronic devices.
To Complete Dakhil sectors you must pass separately MCQ and writing exam.
SSC Vocational Form Fill Up 2022
SSC Vocational exam form fills up finished according to the information of BTEB. We are now providing you with the notice about the Vocational form fill up 2022. Vocational Form fill up started from October and it continued to November 2019. Students needed some fees to complete their form fill up. Here check out the image to know about the date and form fill up fees of SSC Vocational Exam 2022.
Time: 20/10/2019-04/11/2019
Form Fill Up fees:
| SI | Description | Amount |
| --- | --- | --- |
| 01 | Exam Fees | 400/- |
| 02 | Practical Training Fees | 120/- |
| 03 | Connection fee | 300/- |
| 04 | Exam Papers Fees | 60/- |
| 05 | Late Fees | 300/- |
| 06 | Center Fees | 450/- |
| 07 | Practical Center Fees | 100/- |
| 08 | Practical Exam Fees 7 Subjects | 175/- |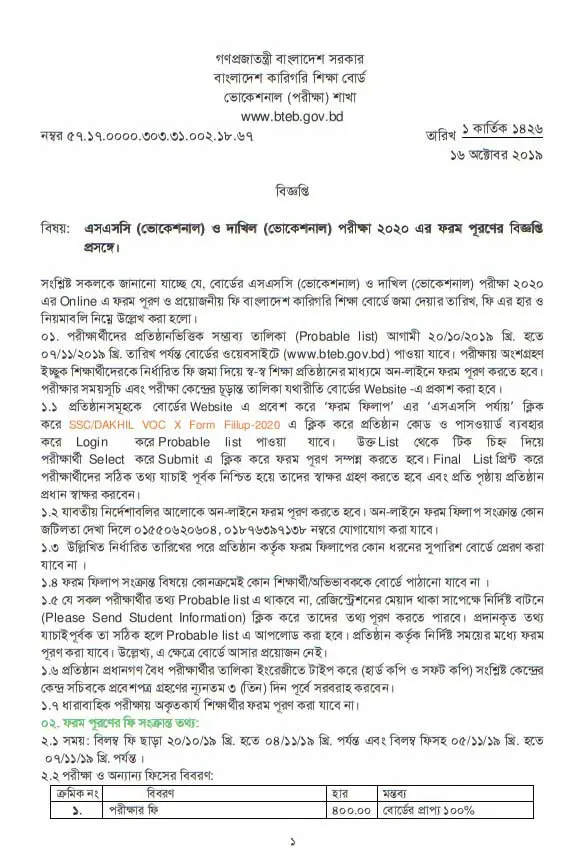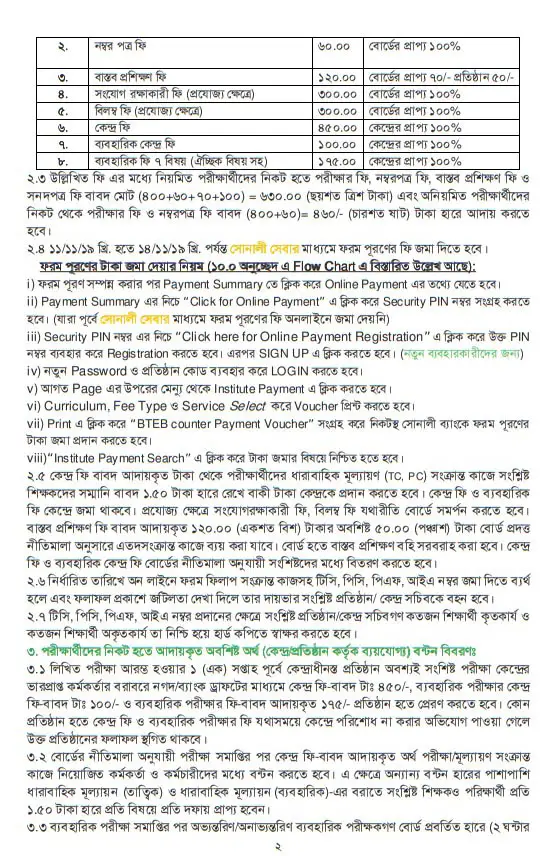 SSC Vocational Exam Center List 2022
The SSC Vocational Exam Center list is now available on our site. You check your exam center list easily from our site. We are going to provide you full information about the center list that you will participate in SSC Vocational Exam 2022. Let's check out the image below: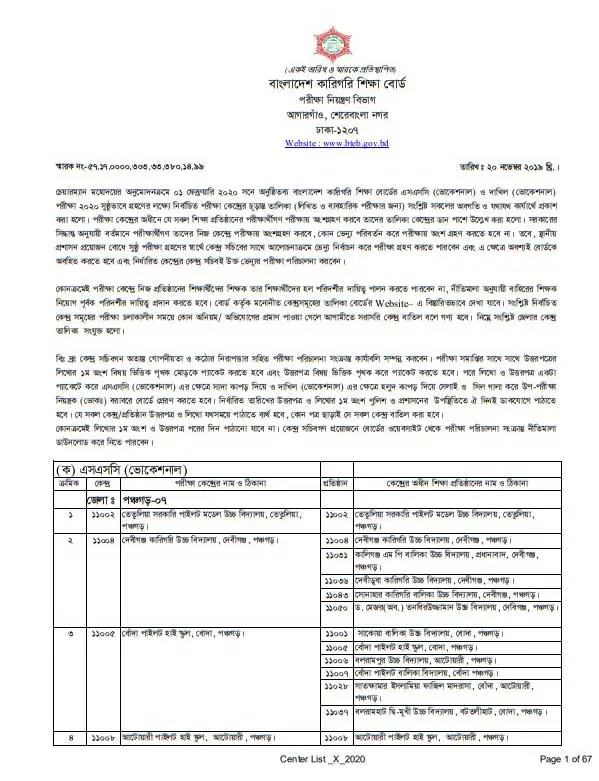 From the below button, you can download the full center list all over Bangladesh.
SSC Vocational Exam Result 2022
SSC Vocational Exam result 2022 will available on our site. You can check your result from AlBangladesh.com We will provide you exact date and time for your SSC Vocational Result 2022. We wish you the best of luck for your upcoming SSC Vocational exam and also for the result.
If anything wants to know then just comment below. We will happy to solve your problem.